Just 29 per cent of those taking part in the survey for Ipsos Mori had a favourable view of the prime minister - down a whopping 12 points since July and the lowest score Mr Johnson has recorded since his landslide general election victory in December, putting him behind Labour's Sir Keir Starmer.
Meanwhile, voter optimism over the UK's prospects fell to its lowest in 2020 so far, with barely more than a quarter (26 per cent) saying the country was heading in the right direction (down four points since July) and 45 per cent in the wrong direction (down one).
Pessimism was deepest among younger age-groups, Labour supporters and Remain voters.
The poll of more than 1,000 voters was taken between 21 and 24 August, in the wake of the government's humiliating U-turn on botched A-level results and shortly after the announcement of new coronavirus restrictions to tackle flare-ups in parts of England as well as quarantines on holiday-makers coming back from France.
UK news in pictures

Show all 50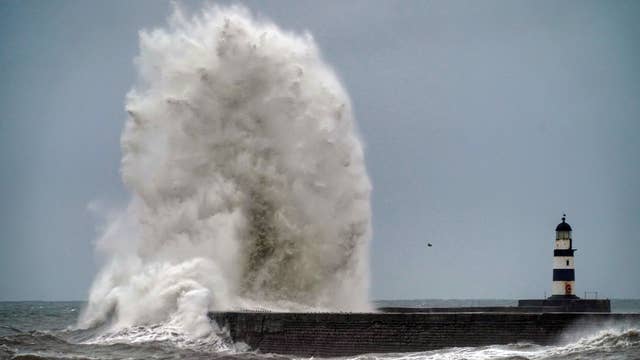 With unfavourable views up four points to 46 per cent, the PM has an overall rating of minus-17, substantially behind Starmer on plus-2 (30 per cent favourable and 28 per cent unfavourable.
For the first time since the election, Labour's popularity rating edged ahead of the Tories, who saw the proportion of voters with favourable views plummet by seven points to 28 per cent, while unfavourable opinions rose six points to 46 per cent.
With 29 per cent taking a favourable view of them, Labour rose above Tories in the ratings for the first time under Starmer. Labour recorded an overall favourability rating of minus-10 compared to minus-18 for the Tories.
However, with their own score rising by only one point over the month, Sir Keir's party appeared to be benefiting from a sharp decline in the public's judgement on the government's performance rather than any surge in enthusiasm for Labour's offer.
Chancellor Rishi Sunak, increasingly seen as a potential successor to Mr Johnson as Tory leader, retained a healthy plus-20 favourability rating, despite seeing numbers with a favourable opinion of him drop six points to 42 per cent since July, while unfavourable views held steady at 22.
Under-fire health secretary Matt Hancock saw his rating plummet by 13 points overall to minus-19, with 23 per cent favourable against 42 per cent unfavourable.
New Liberal Democrat leader Sir Ed Davey was given a reminder of the scale of the task facing him in his fight to nurse his party back to electability.
The Lib Dems remained in the doldrums, with 40 per cent unfavourable towards them and just 13 per cent favourable - markedly down on the 23 per cent recorded as they went into the last general election.
Ipsos MORI Research Director Keiran Pedley said: "It is clear from these findings that the reputations of the prime minister and the Conservative Party generally have taken a hit after a challenging few weeks – with a noticeable drop in public favourability towards both since July.
"However, what is less clear is whether this is a temporary shift or part of a longer-term trend where public opinion moves against the government. It would be wise not to jump to any conclusions too soon on that. We will need to wait for new voting intention polling to see if events this month have really moved the needle."
Ipsos Mori questioned 1,119 British adults between 21 and 24 August.
tinyurl
is.gd
u.nu
clck.ru
ulvis.net
shrtco.de