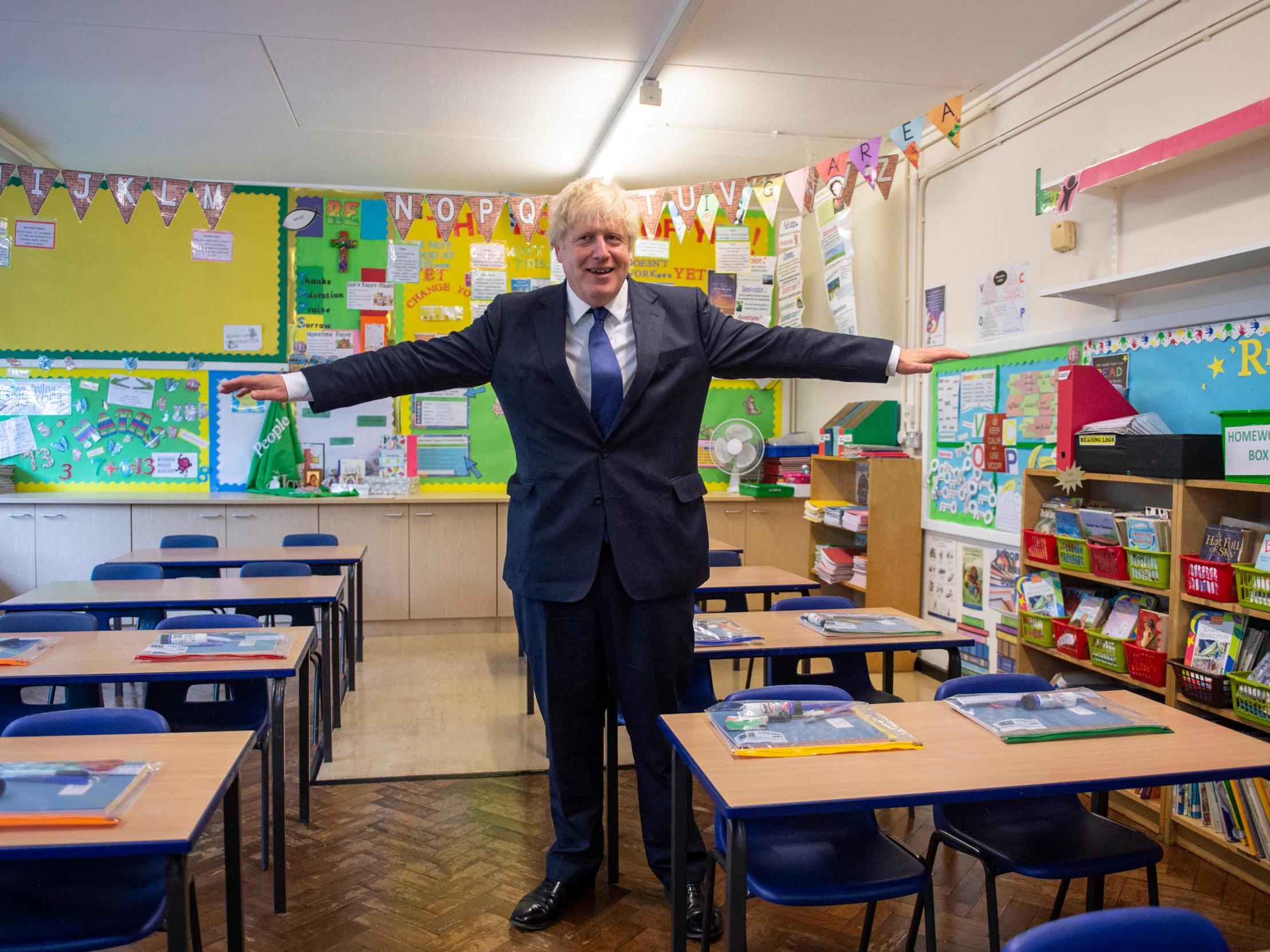 Boris Johnson has appealed to parents to send their children to schools when they reopen next week as a major union warned more teachers are needed in preparation.
The National Education Union (NEU) also accused ministers of being "negligent in the extreme", saying schools had been left in the dark on how to deal with a coronavirus outbreak.
Labour leader Sir Keir Starmer has warned the exams crisis that has engulfed the government for a fortnight has put the planned reopening of schools "at risk".
But the prime minister thanked school staff who he said had made classrooms "Covid-secure".
In a direct appeal to parents, he said: "It's vitally important that we get our children back into the classroom to learn and to be with their friends. Nothing will have a greater effect on the life chances of our children than returning to school."
His intervention comes after a tumultuous couple of weeks for schools and the education secretary, Gavin Williamson, following the A-level and GCSE grading crisis, with Mr Williamson facing criticism from Conservative colleagues as well as opposition MPs.
As Mr Johnson prepared to return to work after his summer holiday, a new report by Public Health England (PHE) found there were 30 outbreaks of coronavirus in English schools after they reopened earlier this year.
A total of 121 infections were linked to the outbreaks, 30 in children and 91 in staff, the analysis said.
Kevin Courtney, joint general secretary of the NEU, said it was "vital that the government must take every step it can both to allow this wider reopening and to keep the R rate below 1."
Schools were doing all they could to make their buildings as Covid-secure as possible, at the same time as dealing with the fallout from this year's exams crisis, he said.
But staff, parents and pupils were being let down by "a lack of a Plan B and of [a] robust track trace and test [system]".
"We believe the government is negligent in the extreme," he said.
He also called for ministers to hire more school staff.
"Government should be employing more teachers and seeking extra teaching spaces to allow education to continue in a Covid-secure manner if infections rise," he said.
The union Unison, which represents a number of non-teaching staff in schools, also reiterated its call for workers to be allowed to wear masks.
It emerged at the weekend that pupils and staff at James Gillespie's High School in Edinburgh will have to wear face coverings while moving around between classes.
In a bid to ease concerns education minister Vicky Ford reiterated the government's pledge to send a number of easy-to-use coronavirus tests to every school in England to help deal with potential outbreaks.
But an opinion poll this weekend suggested just two-thirds of parents were preparing to send their children back to the classroom next week.
The survey, by Redfield and Wilton Strategies, suggests many remain unconvinced schools are safe.
Mr Johnson has said he wants all children to return to school next week, warning the move was crucial to the UK economy.
An earlier attempt to reopen schools fully before the end of the summer term had to be abandoned in an embarrassing climbdown for ministers.
The prime minister's plan has received the backing of chief medical officer Professor Chris Whitty, who said the evidence clearly showed that children would suffer more harm if they did not return as planned next week.
However, he and other chief medical officers around the UK warned that it was "possible that opening schools will provide enough upward pressure on R that it goes above 1 having previously been below it, at least in some local areas".
"This will require local action and could mean societal choices that weigh up the implications of imposing limitations on different parts of the community and the economy," they added.
The teachers union NASUWT said the statement showed the "critical importance" of safe working practices in schools, including social distancing and hand-washing measures. As the deadline for opening schools loomed, the embattled education secretary Gavin Williamson was forced to defend a holiday he took just before the A-levels crisis erupted.
Mr Wiliamson said he had been in Scarborough days before this year's results were released, but had been in constant contact with his department.
tinyurl
is.gd
clck.ru
ulvis.net