The co-founder of Extinction Rebellion is among five people charged with conspiring to cause criminal damage at upcoming environmental protests.
Roger Hallam and four other members of the Beyond Politics splinter group were remanded in custody at a court hearing on Wednesday, meaning they will be in jail during demonstrations taking place over the bank holiday weekend.
A spokesperson for Beyond Politics said they had started an "indefinite hunger strike against the injustice of their imprisonment".
Mr Hallam, 54 and of Putney, appeared at Highbury Corner Magistrates' Court alongside Diana Warner, 61, of Bristol, Ferhat Ulusu, 42, of Hackney, Holly Brentall, 28, of Haringey and Steven Nunn, 56, of Telford.
The Metropolitan Police said they had been arrested on Monday and charged with conspiracy to cause criminal damage at planned protests.
They were remanded in custody ahead of a hearing at Wood Green Crown Court on 22 September.
Police have previously used pre-emptive arrests at a series of protests, including those involving Mr Hallam.
Beyond Politics, which was launched in June, describes itself as a political party and says it is not part of Extinction Rebellion, although their founders were previously activists with the group.
A spokesperson said the five arrested members were detained at their homes as part of a coordinated police operation.
The group said that Mr Nunn was a former priest and a grandfather, and that Ms Warner was a retired GP.
Extinction Rebellion: Climate change protests cause chaos in London

Show all 46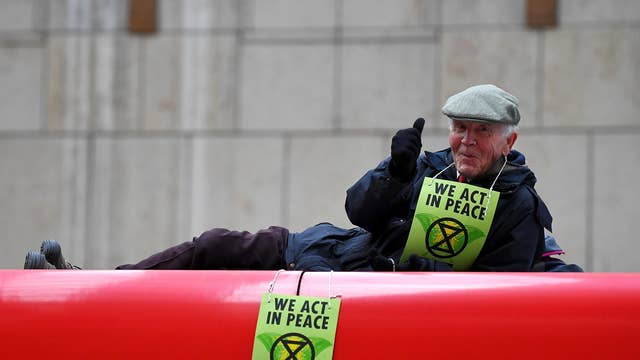 Extinction Rebellion activists are planning a number of protests in cities and towns across the UK before a nationwide "rebellion" starts on 1 September.
It is supporting an anti-racist protest called the Million People March on Sunday, which will see people gather in Notting Hill on what would have been the first day of its annual carnival.
Organisers said the march would travel towards Hyde Park to call for "change to UK's institutional and systemic racism".
A spokesperson for the Metropolitan Police said it was aware of plans by Extinction Rebellion to stage a number of protests in London from Tuesday.
"Officers are in contact with the organisers and continue to remind them of the current, ongoing health crisis and the Health Regulations which remain in place," a statement added.
"A policing plan will be in place throughout the duration of the demonstrations."
tinyurl
is.gd
clck.ru
ulvis.net
shrtco.de