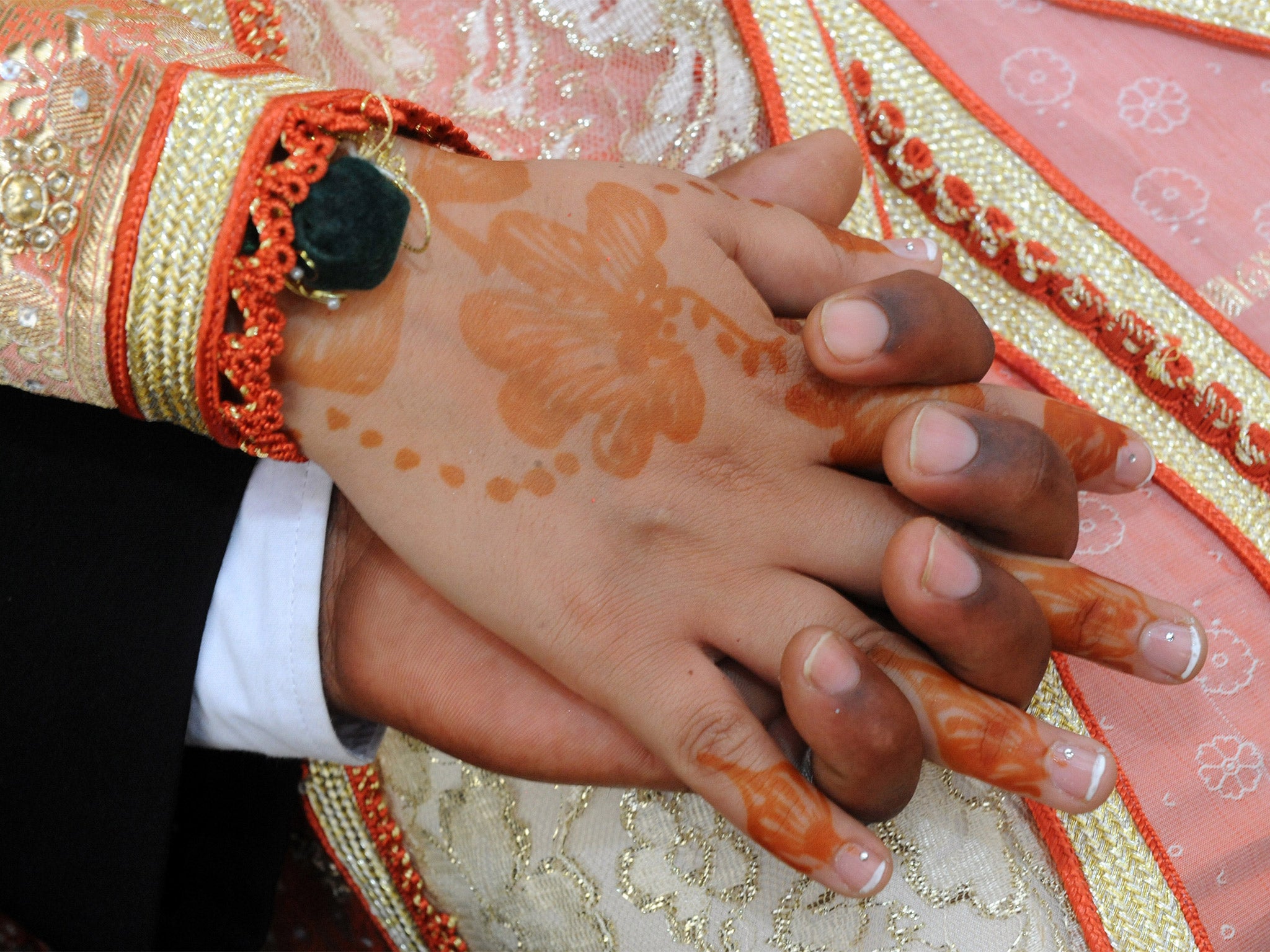 The government must make the registration of all religious marriages compulsory to stop women suffering abuse and discrimination, a new report has warned.
Researchers at Civitas, a social policy think tank, said substantial numbers of Muslim women in the UK are in unregistered religious marriages which leaves them vulnerable to being left destitute with no financial assets or property if their husband divorces them.
The report states many women do not realise they don't have legal protections and marital rights due to not registering their marriage after a religious ceremony.
Researchers warn the "asymmetric nature" of polygamous marriages and Islamic divorce – which permits the man to instantaneously divorce his wife but makes it far more difficult for the woman to initiate divorce proceedings – puts wives at risk.
Emma Webb, the report's author, said: "While successive governments have failed to address this well-known problem, despite calls from Muslim women activists and the international bodies, everyday women continue to suffer horribly because of completely unjustifiable shortcomings in our legislation.
"Despite bigamy being illegal in the UK, the fact that religious-only marriages can go under the radar effectively allows men to enter into polygamous relationships that leave the women with absolutely no marital rights or legal protection under UK law. This leaves women and their children vulnerable to abuse, exploitation and destitution – it simply cannot be allowed to continue."
The report calls for current legislation to be overhauled so the registration of all religious marriages in England and Wales is compulsory – with researchers arguing this could reduce the prevalence of unregistered polygamous unions which damage "women's rights and mental health".
Researchers argue "reluctance" to amend the law on religious marriages could be a "political calculation based on perceptions about religious sensitivity". The report states: "In other words, fear of being called Islamophobic for intervening on an issue relating to Muslim women's rights within their community."
Baroness Cox of Queensbury, a cross-bench member of the House of Lords, welcomed the report as she called for legislation to "at last" be introduced with "great urgency" due to the fact so many Muslim women in the UK are suffering in ways which would make "Suffragettes turn in their graves".
A bid to make religious marriages legally binding in the UK was rejected by judges in February – dashing the hopes of campaigners who warned women are left penniless with no support after the break-up of sharia unions.
Campaigners claimed the landmark judgment, handed down at the Court of Appeal, could have "profoundly discriminatory consequences" for women and upholds an antiquated system of marriage.
The Court of Appeal overturned a family court judge's decision that a woman was entitled to apply for maintenance payments from her estranged husband despite the fact they were not legally married. The attorney general had appealed the ruling.
The pair, who had an Islamic marriage ceremony, were married for 18 years and have four children together.
"The Court of Appeal's decision to deny Muslim women financial remedies by refusing to deem a sharia marriage a void marriage is a travesty of justice," Maryam Namazie, of campaign group One Law for All, said at the time.
"The court, like the government, is perfectly happy to relegate minority women to kangaroo courts and faith-based parallel legal systems in order to appease fundamentalists and manage minority communities at the expense of women's rights."
A 2017 poll found almost all married Muslim women in the UK had had a nikah, an Islamic marriage ceremony, while nearly two-thirds had not also had a civil ceremony.
In 2018, a Home Office-commissioned review into the application of sharia law reached the view that Muslims in the UK should undergo a civil marriage as well as a religious ceremony to make sure women are protected under the law.
While the report said the measure was needed to lessen "discriminatory practices" in the councils, it argued abolishing sharia councils was "not viable" and they were "fulfilling a need in some Muslim communities".​
Campaigners previously told The Independent British women were increasingly being pressured into polygamous relationships or left without child support when relationships break up because UK law does not offer adequate protection to spouses in religious marriages.
Activists warned women are being forced to go through religious courts, which make rulings that make them stay with partners they want to leave, or rule them unable to claim money or property from their de facto husbands after marriages break down.
tinyurl
is.gd
u.nu
clck.ru
ulvis.net
shrtco.de