Gavin Williamson is facing a mounting backlash over the contentious A-level grading system, as official data showed private schools increased the proportion of students being awarded top results by more than double that of state schools.
Charities and unions reacted with fury at the results, with one national social mobility organisation claiming the differences between the independent sector and sixth form colleges "shine a line on the inequality that lies at the heart of our education system".
It comes as thousands of students across the country received their grades that were moderated by an algorithm in the absence of exams that were cancelled due to the pandemic. The system took into account pupils' previous scores, teachers' predicted grades and the historic exam performance of institutions.
Figures released on Thursday by the exam regulator, Ofqual, showed that 39 per cent of teachers' assessments were downgraded by one or more grades through the standardisation process that followed.
Highlighting disparities in the education system, data published by the body also showed that independent schools experienced a rise in those being awarded A*/A grades from 43.9 per cent in 2019 to 48.6 per cent in 2020 – up by 4.7 per cent.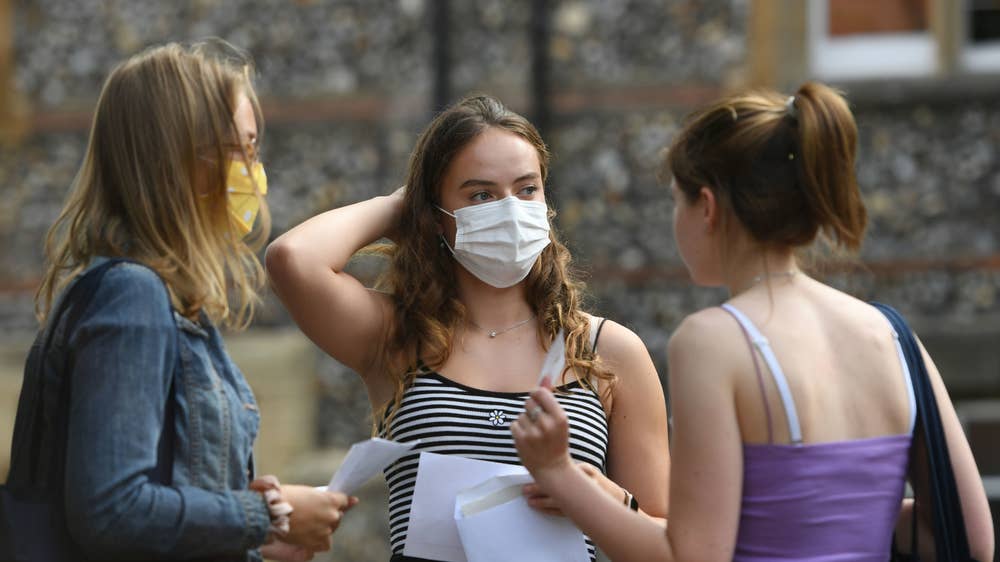 In contrast, top A-level grades awarded to secondary comprehensives students were up by two per cent from 19.8 per cent to 21.8 per cent while sixth form and further education (FE) colleges recorded a rise of just 0.3 per cent on A*/A results from 2019.
In the previous year – 2018-19 – the proportion of those achieving the grades needed for some of the UK's most prestigious universities had actually fallen by 1.9 per cent for those from private schools, the data added.
The regulator insisted there was no evidence of "systemic bias", but analysis also noted the biggest reduction in the proportion of students awarded C grades and above after moderation was recorded within those from disadvantaged backgrounds.
Some 85 per cent of pupils classed as having a "low" socio-economic status by Ofqual had been predicted to achieve a C and above by their schools. This fell to 74.6 per cent once final grades were calculated under this year's new moderation process – a drop of 10.4 percentage points.
The proportion of students from the least deprived backgrounds, or "high" socio-economic status, awarded a C and above fell by 8.3 percentage points during the process, from 89.3 per cent to 81 per cent.
Sir Keir Starmer, the Labour leader, called on the government to correct the "injustice" and consider a U-turn similar to the Scottish government, which scrapped the standardised system and reverted to teachers' predicted grades earlier this week after public outrage.
The Social Mobility Foundation, a charity which coaches thousands of high attaining young people from disadvantaged backgrounds, said it had raised concerns four months ago to Ofqual regarding bright students at low attaining schools.
"These results, with early report suggesting significant differences between the independent sector and FE and sixth form colleges shine a light on the inequality that lies at the heart of our education system," the organisation's CEO Sarah Atkinson said.
"There are bright young people the length and breadth of this country who have a mountain to climb to achieve parity with their better off peers and the statistical models used by Ofqual, and the SQA last week, confirm that the odds are stacked against these young people from the start."
Kaya Ilska, who is on the Social Mobility Foundation's scheme, was predicted 4 A*s at A-level and had two firm university offers – one from University College London and one from Cardiff to study medicine, with conditional grades of A*AA and AAA respectively.
The 18-year-old, who was on free school meals, however was awarded AABB under the algorithm. "To be quite frank with you, I burst into tears in front of everyone. In front my headteacher, everyone because it was a very traumatic experience really," she told The Independent.
"I was not expecting that. I had put my faith into my teachers and into the system that I would be treated fairly. That the government would ensure that I was able to access my university course that I need for my future and I was severely let down by the system."
"I have contacted UCL and I asked if there was any chance they would take me on, but they said this year they are not accepting anyone who didn't reach that minimum grade requirement. I'm extremely disappointed because I've worked my whole life – my dream was to go to medical school. The NHS is struggling with the amount of doctors it has at the moment and I really wanted to help and give back."
The university told Ms Ilska that she is welcome to appeal her grades and if she receives her predicted results before 18 September, they will process her admission. "However, when I talked to my school about this, the government still hasn't issued guidelines on how appeals are to be processed," she said.
In a message to the government, she added: "We feel like we're being stripped of our future so I hope the government will first of all consider a U-turn in the unfair moderation because entrance into higher education shouldn't be pre-determined by if your parents were doctors or lawyers before you, how much money your parents earn on where you live, it should be be solely determined on your academic potential and who you are as a person."
During a turbulent day, Mr Williamson, the education secretary, first admitted high performing pupils risked being penalised by this year's A-level system and was then confronted by a visibly frustrated school head, who accused the cabinet minister of ignoring the professional judgement of teachers during a televised interview on ITV's This Morning.
Christine Cunniffe, the principle of LVS Ascot, urged the government to abandon the standardised system while the programme's resident psychologist Emma Kenny told the education secretary he was "disrespecting teachers and young people" and asked: "How about sorry?"
However, Boris Johnson insisted he had confidence in Mr Williamson and defended the results, claiming: "Let's be in no doubt about it, the exam results that we've got today are robust, they're good, they're dependable for employers, but I think that there's a record number of candidates, of students, who are able to get their first choice course at the university of their choice."
"Plus, there's a record number of students, of pupils, from disadvantaged backgrounds who now as a result of these grades, will be able to go to university," the prime minister added.
Sir Peter Lampl, the founder and chairman of the Sutton Trust, a leading social mobility charity, said this year's grading was "grossly imperfect", saying: "It's vital that universities make greater use of contextual admissions for students who narrowly missed out on their grades. They must recognise that students' grades have been awarded in the most extraordinary of circumstances."
Sir Peter said that if students seek to amend their grades through the appeal process, including a written exam in the autumn, then fees "have to be waived". He also encouraged the government to switch to a system where students first get their A-level results then apply to university in the future – rather than relying on predicted grades and conditional offers which causes "stress and anxiety".
The National Education Union (NEU) said students and teachers "have been let down by a poor system and last-minute political decisions" adding Mr Williamson's plan "is a real insult to young people and their parents, who depend on a credible system which is supposed to help students on their way to a bright future".
Dr Mary Bousted, joint general secretary of the union, added: "Years of misconceived structures in the exams process have come back to haunt the Westminster government. Students have been downgraded for reasons which to them will be obscure.
"So not only will the result be devastating, but many will discover it has nothing to do with their own performance and everything to do with the past attainment of their school. Student prospects this year were governed by an algorithm, and the unfairness of that process has been fully exposed.
"The Scottish government realised it had made a mistake, apologised and promised to put it right. Gavin Williamson has apologised and promised to put things right, but his solution causes more problems than it solves. We are now, at the eleventh hour, dealing with a crisis which should never have arisen. The only solution is to award students the grades their teachers – who know them better than any computer data prediction – think they would have achieved."
Ofqual's own analysis, published on Thursday, said that teachers' predictions were "in general, optimistic", adding: "The combined effect would be likely to lead to overall national results that were implausibly high.
"If we had awarded grades based on CAGs [centre assessment grades] we would have seen overall results increase by far more than we have ever seen in a single year. At A level, we would have seen the percentage of A* grades go up by 6 percentage points from 7.7 per cent of grades in 2019 to 13.9 per cent of grades this year."
The body added there was no evidence "bias" had been introduced into the moderation system set up following the cancellation of exams due to the coronavirus pandemic.
It said differences between the change in predicted and final results was "relatively similar" across all socio-economic groups, adding it was "difficult to draw firm conclusions" over the relationship between deprivation and grade adjustment.
tinyurl
is.gd
u.nu
clck.ru
ulvis.net
shrtco.de