The UK commemorated the 75th anniversary of VJ Day on Saturday with a nationwide RAF flypast and a remembrance ceremony led by the Royal Family.
The ceremony was also attended by dozens of veterans remembering the fallen and the surrender of Japan which brought an end to the Second World War.
Boris Johnson read the war poem Exhortation during a televised remembrance service at the National Memorial Arboretum in Alrewas, Staffordshire.
Richard Day, a 93-year-old veteran from north London who fought in the historic Battle of Kohima in northeast India, was among some 40 veterans attending.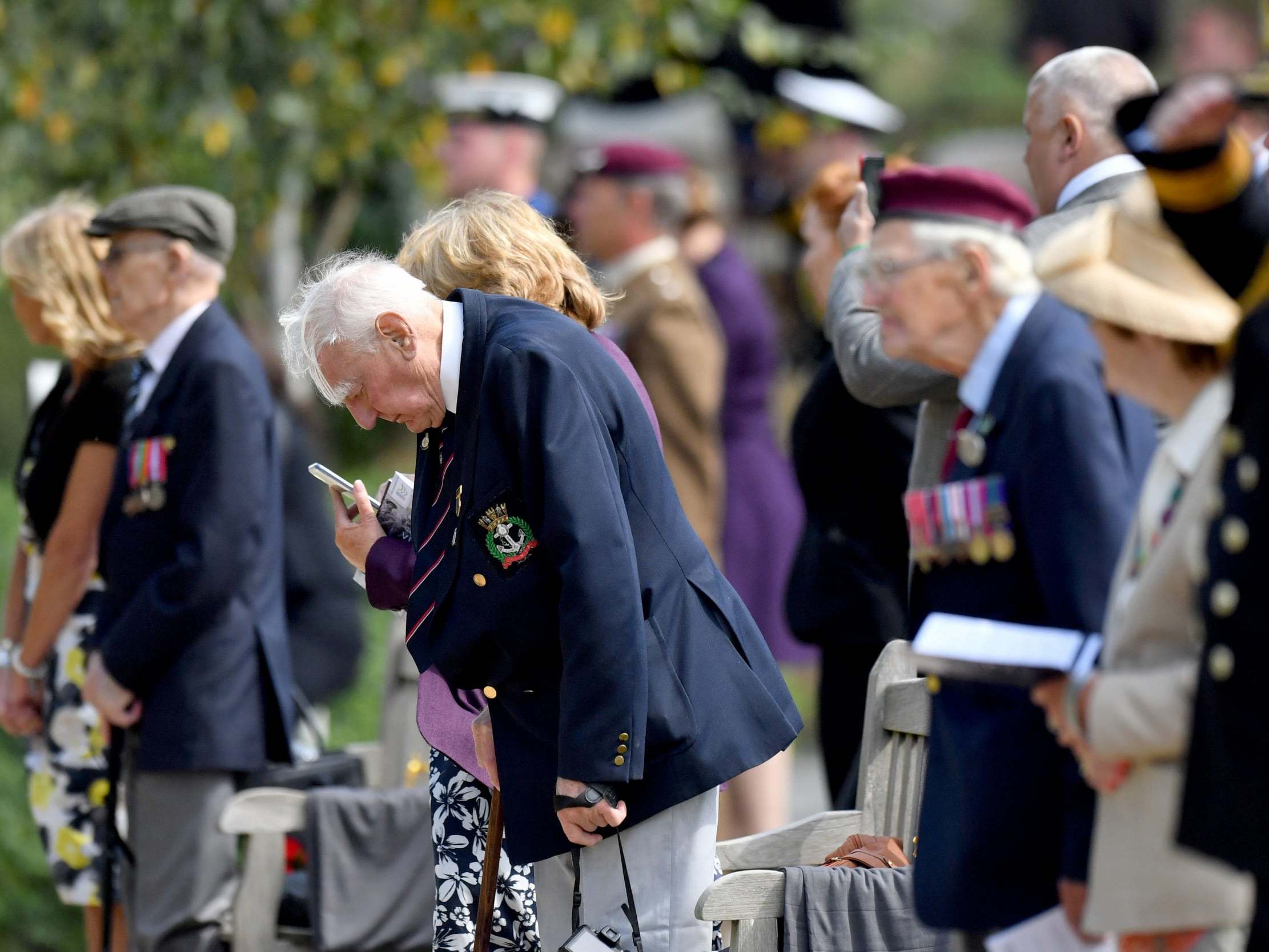 Mr Day, of the Royal Welch Fusiliers, described his memories of the war, including when he simultaneously caught malaria and dysentery while fighting a highly determined enemy.
He said: "I think the worse part was crossing rivers at night, it was cold at night – then all night in wet clothes and wet equipment, still having to move about.
"They (the Japanese) were very determined for their emperor. It was a glory for them to die for their emperor. They didn't appear to have any fear at all."
The Prince of Wales and Duchess of Cornwall then led a two-minute silence at the ceremony before the Battle of Britain Memorial Flight flypast over the site.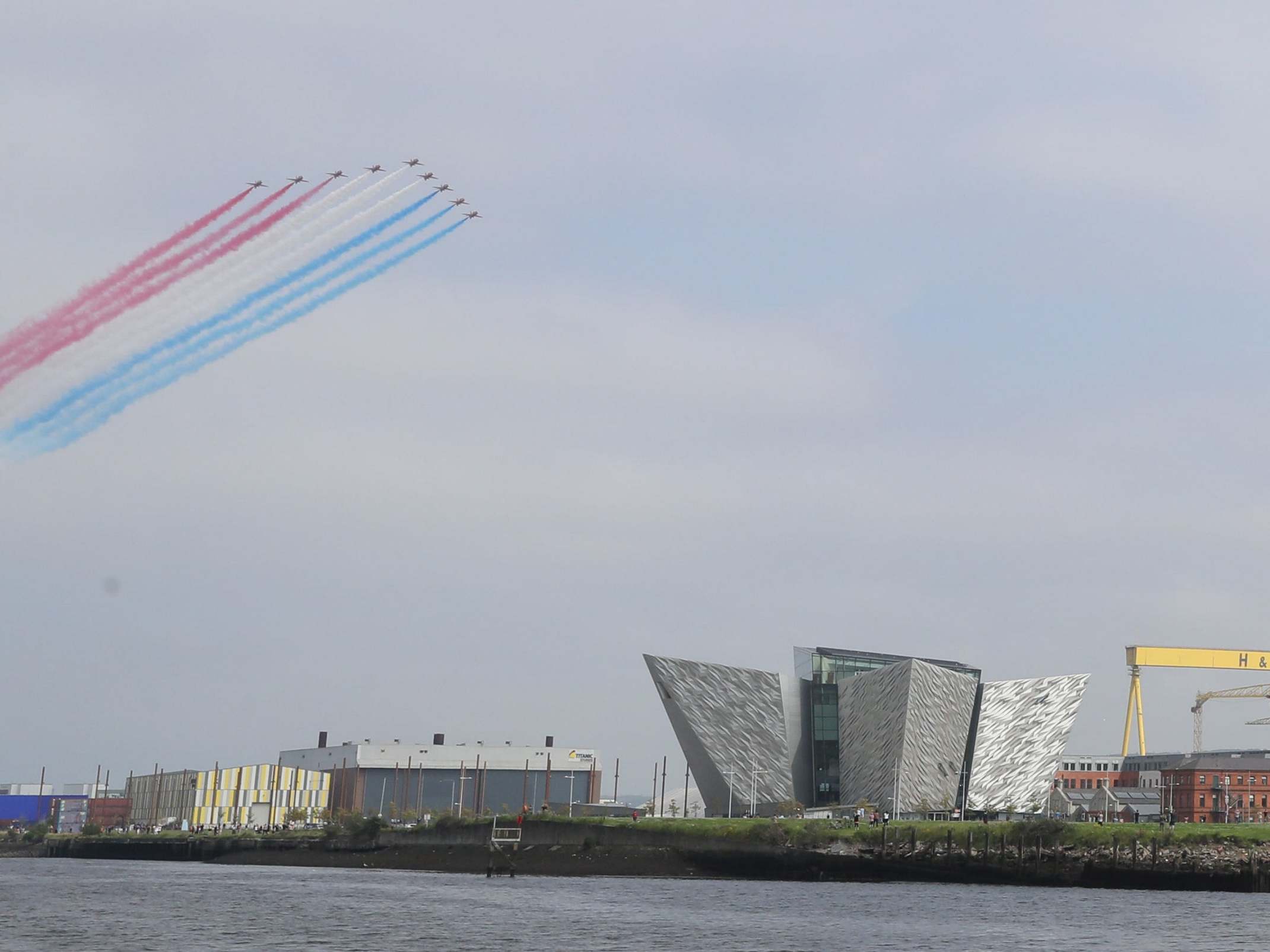 The flypast was scheduled to take place over the UK's four capital cities, but the Edinburgh flypast was cancelled due to poor weather. The RAF's Red Arrows flew over Glasgow Prestwick Airport instead, landing to meet with three veterans.
Smaller ceremonies also took place in London, including a piper playing "Battle's Over" at the Imperial War Museum's HMS Belfast at sunrise.
The Queen and the Duke of Edinburgh – who was on the HMS Whelp in Tokyo Bay when Japan surrendered 75 years ago – thanked all those who fought with the Allies in a special message.
The Queen said: "Prince Philip and I join many around the world in sending our grateful thanks to the men and women from across the Commonwealth, and Allied nations, who fought so valiantly to secure the freedoms we cherish today."
Covid-19 restrictions have seen tributes largely organised online and to be televised, including the BBC's VJ Day 75: The Nation's Tribute, which included tributes to the wartime generation.
Labour leader Sir Keir Starmer shared a video on social media, saying: "On behalf of the Labour Party I want to pay tribute to the wartime generation, who through the horrors of conflict showed us the spirit and determination that we need to always remember and always be grateful for.
"It's important that as we face the challenges of today, we take inspiration from that generation.
"Through their community spirit and their bravery and their determination for a better world they've shown us what we can achieve when we pull together."
About 50,000 British and Commonwealth personnel were killed in the war against Japan. Almost half died in prison camps.
tinyurl
is.gd
u.nu
clck.ru
ulvis.net
shrtco.de