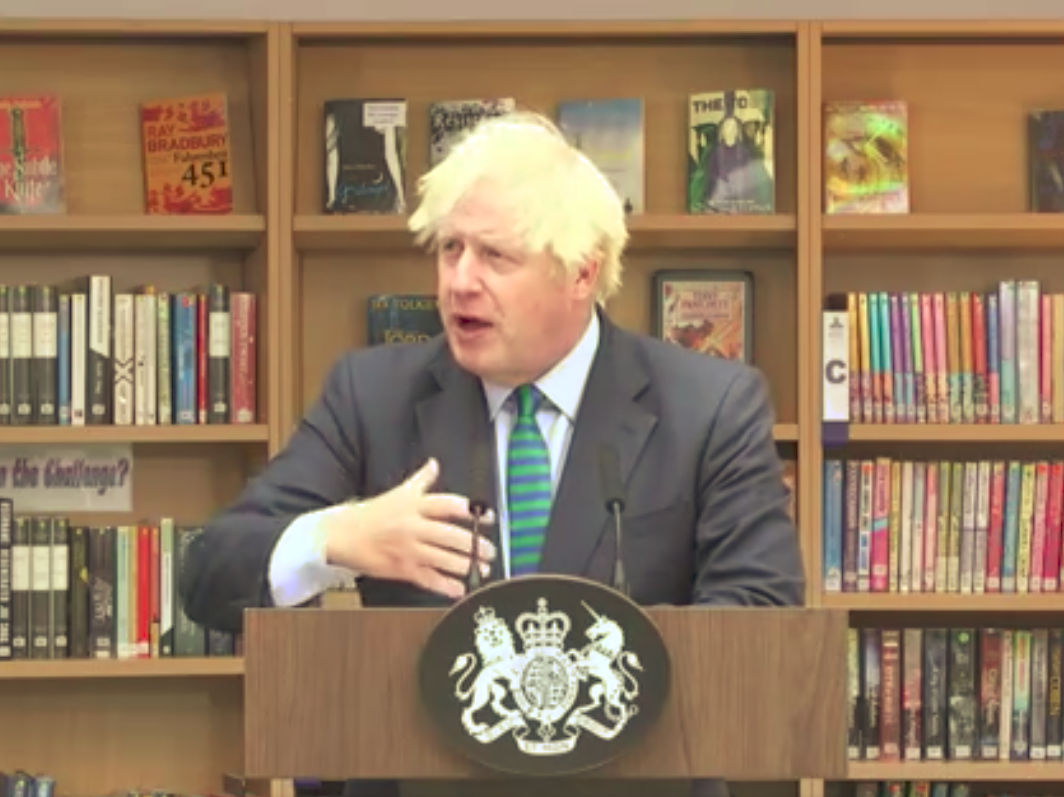 While you're told you should not judge a book by its cover, can you judge a librarian by their choice of books? Speculation is rife after books titled Betrayed, The Resistance, and The Subtle Knife were spotted behind Boris Johnson as he gave a speech at a school.
Several people posted on Twitter wondering if the books had been selected and intentionally placed behind where the prime minister would appear when he spoke at Castle Rock school in Coalville, Leicestershire, on Wednesday.
Other titles which appeared behind Mr Johnson included the dystopian fiction Fahrenheit 451, The Toll and The Twits.
One person tweeted: "Fahrenheit 451 in the background and a PM that lies or holds back reports! Dystopian book for a dystopian PM."
Another asked: "Are the books behind Boris artfully arranged with a secret political agenda and commentary on the current government?"
A spokesperson for Castle Rock school told The Independent they were unable to answer any questions on whether the books were specifically chosen to appear behind the prime minister.
They were also unable to say when they were placed there.
Among the books which appeared behind Mr Johnson, Fahrenheit 451 by Ray Bradbury is about a future American dystopian society where books are outlawed and burned.
Similarly, The Toll by Neal Shusterman is part of a trilogy about dictators and prophets, while Betrayed by P C Cast and Kristin Cast is described as "dark and sexy, and as thrilling as it is utterly shocking".
The Subtle Knife, the second novel in Philip Pullman's fantasy His Dark Materials trilogy, won several of the UK's top awards for children's literature and centres around a parallel universe similar to our own.
The Twits, written by Roald Dahl and illustrated by Quentin Blake, is about the Mr and Mrs Twit, who play nasty tricks on each other and are eventually handed their comeuppance by the Muggle-Wump monkeys and the Roly-Poly bird.
Mr Johnson said pupils returning to the school would "experience things with an intensity and clarity ... that is seldom repeated in your lives".
He also referenced ongoing cultural debates, telling the students they would be dealing with concepts such as nuclear fusion or "is Harry Potter sexist – answer no, by the way" and "is it politically acceptable to sing Rule Britannia – yes".
He made the remarks after the BBC said it would play an instrumental version of the song at the Last Night Of The Proms next month, following a heated debate over its historical meaning. The BBC has said the decision to drop the lyrics was prompted by Covid-19 restrictions.
Mr Johnson added: "When you are struggling with complex questions, or something which you are worried about, somebody – very probably a teacher, a brilliant teacher – will say something and a light will go on, the clouds will lift and you will never, ever forget that moment.
"And that's why education is the great equaliser, it's the liberator, it's the transformer of society, and it's the single most important way in which we can unite and level up across this whole country and deliver social justice.
"And that is why we must, in the next week and the succeeding days, we must have every pupil back in school in the way that you've come back to school."
It comes after the government performed a U-turn on earlier advice by making face coverings mandatory in schools in some parts of England which are under local lockdown.
tinyurl
is.gd
u.nu
clck.ru
ulvis.net
shrtco.de