Police have handed out 46 fines to people violating coronavirus laws by refusing to wear face masks in England and Wales.
Figures released by the National Police Chiefs' Council (NPCC) show that the majority of penalties were issued on public transport, with only eight fines given to people in shops and other indoor spaces covered by new laws.
On 15 June, face coverings became mandatory on public transport; on 24 July a new law extended the rule to shops, and other indoor spaces have since been added.
By 17 August, 38 fines had been issued on public transport and eight in other "relevant places". The vast majority were issued to white men under the age of 30.
The Police Federation previously said that face-mask laws added pressure to officers who are "already being stretched to the limit".
"To expect my colleagues to be policing the supermarket aisles, looking for those shoppers not wearing a face covering, is unrealistic and unfair," said the federation's chair, John Apter, when the law was announced.
"We simply don't have the resources, and this would fundamentally undermine the model of policing, which is to police by consent."
Police called for shops to make wearing masks a condition of entry, but large retailers including JD Sports said staff would not be instructed to enforce the law.
Provisional statistics show that the number of penalties given out to people violating wider lockdown restrictions has dropped dramatically since they were eased.
Almost 18,700 fines have been given out in England and Wales since the Public Health Regulations came into force on 27 March, but only 13 were recorded in the month to 17 August.
Life on the line: The Leicester street cut in half by lockdown

Show all 8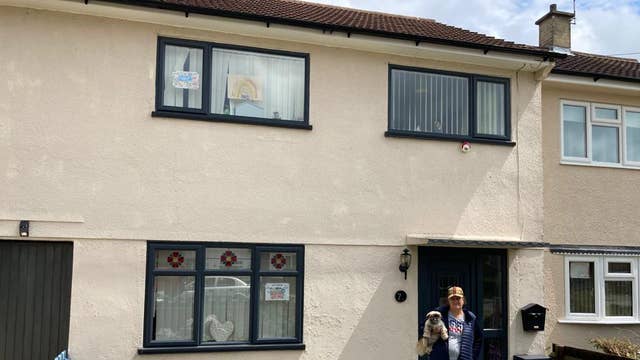 The law still prohibits gatherings of more than 30 people, unless "all reasonable measures to limit the risk of transmission of coronavirus" are taken.
The NPCC said 36 fines had been issued by police during "local lockdowns" in Leicester, Greater Manchester and Lancashire, and three for people who refused to self-isolate after arriving in England.
Punishments are set at a default of £100 for the first offence, reduced to £50 if paid in two weeks, but can rise to £3,200 for repeat offenders.
Martin Hewitt, chair of the NPCC, said: "Coronavirus is still a real and deadly threat. The restrictions across the UK are in place to limit the spread of the virus and save lives.
"Large gatherings both indoors and outdoors are still unlawful. And it is mandatory to wear face coverings on public transport, in shops and in some other enclosed spaces. Other local restrictions apply in some parts of the country."
Mr Hewitt said that patrols were being stepped up in "problem spots", following calls for a crackdown on unlicensed music events and other gatherings that have drawn large crowds.
He added: "As restrictions ease across the country, people will want to go out and enjoy themselves, but this needs to be done in a socially responsible manner, within the law, and with due regard for everyone's safety."
Police pelted with bottles and flying objects at illegal rave in Brixton in June
Separate figures released on Thursday showed crime rising back towards 2019 levels.
Overall offences were 7 per cent lower in July compared with the same period last year, after a fall of almost a third in April at the height of the lockdown.
Marked reductions were recorded for residential burglary, vehicle crime, assault, robbery and shoplifting, while 999 and 101 calls were down.
But assaults on emergency workers were up 31 per cent on last year.
Mr Hewitt said the unprecedented coronavirus restrictions had initially caused a reduction in crime, but added: "Sadly, we are now seeing crime getting closer to the levels we saw in 2019.
"Police forces are busy tackling and preventing crime and providing a policing service to their communities, while continuing to play their part in the national effort to limit the spread of coronavirus.
"I am disgusted to see an increase in assaults on emergency service workers who are the frontline in protecting us all including from this deadly virus. We will use the full force of the law to prosecute anyone who uses violence against those who are on the front line."
tinyurl
is.gd
u.nu
clck.ru
ulvis.net
shrtco.de