One in 30 people have reported lockdown breaches to police in England and Wales during the coronavirus pandemic.
A survey by the Office for National Statistics (ONS) found that just over half of the public had noticed people violating restrictions in their area.
But of those, only 7 per cent reported the breach to the police.
When asked why they had not reported the incident, a third of people said they thought it was "too trivial", and 10 per cent believed that the police could not have done anything.
More than 18,600 fines have been given out by police in England and Wales under the Health Protection Regulations, but the number issued has fallen with the easing of lockdown.
Last month, the chair of the National Police Chiefs' Council (NPCC), Martin Hewitt, said the remaining restrictions – including a ban on private gatherings of more than 30 people – were important.
Mr Hewitt said: "Police will continue to engage, explain, encourage and only as a last resort will we use enforcement.
"We all need to continue to be personally responsible and follow the rules, whether that be around face masks in shops or very large gatherings. By following the rules, we are all doing our bit to prevent the virus spreading."
The ONS survey showed that more than two-thirds of people gave police a positive rating during the pandemic, with half saying they were doing a good job and a fifth saying they were doing an "excellent job".
More than 90 per cent of people said they were satisfied with the way that local police were responding to the coronavirus outbreak, and the survey showed support for new powers, including fines.
Europe emerges from lockdowns across the continent

Show all 19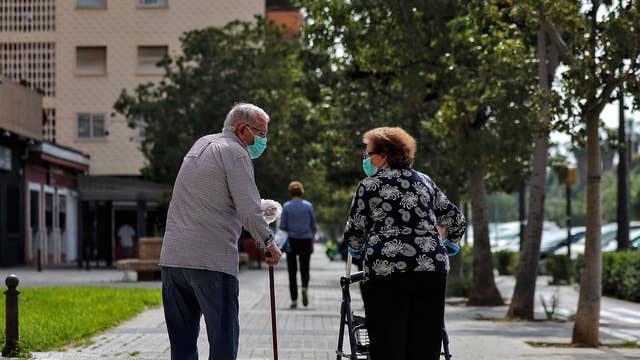 Mr Hewitt said regional forces were looking at the figures to "assess and mitigate any risks of bias – conscious or unconscious – and to minimise disproportionate impact wherever possible".
New laws have also been introduced to enforce local lockdowns, the wearing of masks on public transport, shops and other indoor premises, as well as quarantine for travellers arriving in England.
Statistics released by the ONS on Wednesday showed that police-recorded crime was 25 per cent lower in April and 20 per cent lower in May compared with the same period in 2019.
But "proactive police activity" caused a significant rise in recorded drug offences in the same period, amid increases in stop-and-search and operations against organised crime.
Billy Gazard, of the ONS Centre for Crime and Justice, said: "There was a significant fall in crime at the height of the coronavirus pandemic across England and Wales.
"This was driven by reductions in theft offences, particularly domestic burglary and theft of personal property. As this period coincided with the majority of people spending long periods at home during lockdown, it is not unexpected."
tinyurl
is.gd
clck.ru
ulvis.net
shrtco.de