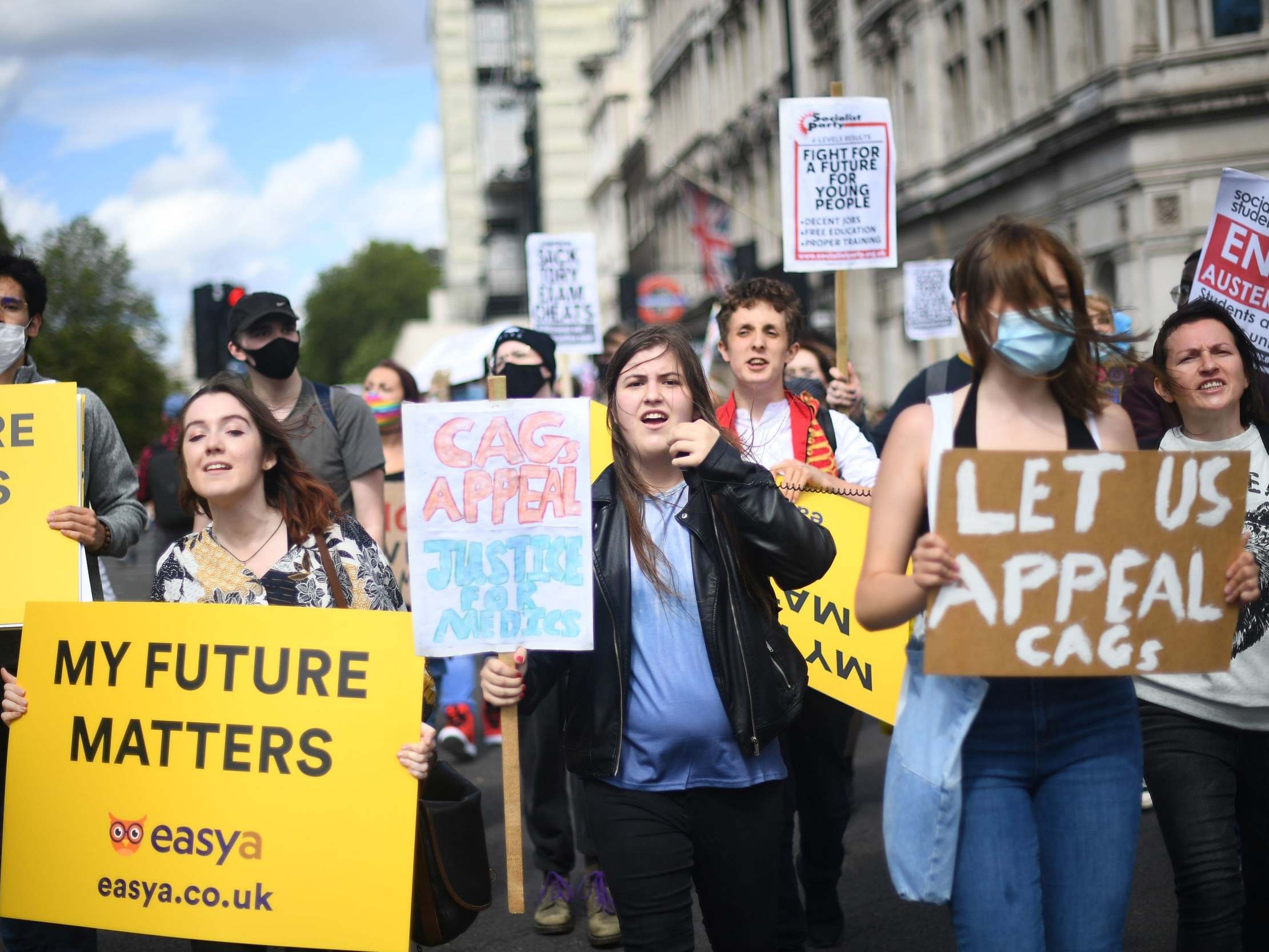 The government was forced into a humiliating U-turn on Monday when it allowed students to use their teacher-predicted grades after an algorithm system gave tens of thousands of pupils lower marks than expected.
Many students remain angry after losing university places due to the downgrading of their results by the algorithm method, which critics have said disproportionately affected schools in poorer areas.
At the protest on Saturday, demonstrators chanted "Get Gav Gone" and "We are the future" while carrying signs with slogans such as "Sack Tory Exam Cheats" and "Fair Grades for All".
Mr Williamson has come under intense pressure to resign over the fiasco, following reports that he was warned of flaws in the moderating system weeks before this month's results day.
Earlier this week, The Times reported that Sir Jon Coles, a former director-general for schools at DfE, had warned Mr Williamson directly in early July that the algorithm in place risked hundreds of thousands of student receiving inaccurate results.
Glen Morgan-Shaw, one of the organisers of Saturday's protest, said in a speech that the government had "f***** up" over the controversy.
"We are going to call them out on their racism, we are going to call them out on their classism and we are going to call them out on the fact they are doing everything to protect themselves when they should be protecting the people," Mr Morgan-Shaw said.
The 18-year-old saw his predicted Btec marks revised down by two grades but managed to get his place at university to study music.
"I was one of the lucky ones but I know so many people who were screwed over," he told the PA news agency.
The protesters have called for leave to appeal against centre-assessed grades (CAG) – teachers' judgment of the most likely grade a student would have achieved if exams had gone ahead.
Following the U-turn, the government has asked universities to prioritise students from disadvantaged backgrounds for admission "where possible".
Michelle Donelan, the universities minister, wrote to vice-chancellors requesting flexibility around admissions and asking them to honour all offers accepted, according to a copy of a letter seen by PA.
Ms Donelan wrote that once admissions capacity was reached and additional places could not be provided, universities should offer "a suitable alternative course" or a deferred place to students.
She added that "where possible try to prioritise those from disadvantaged backgrounds for admission this year".
It came as universities were told they would receive extra funding to help increase capacity on a number of courses following warnings about limited space for students.
Vice-chancellors and doctors had called for the cap on student numbers in medical schools to be removed amid the chaos over exam grades.
"I know that universities are working incredibly hard to try and meet students' aspirations, given the changes to A-level grades and the nervous wait many Btec students are still facing," Sir Michael Barber, chairman of the Office for Students, said on Friday.
"The key now is to ensure that when they are making admissions decisions, universities are mindful of the fact that some students will be less able than others to defer and make use of the resulting unexpected gap year."
Additional reporting by PA