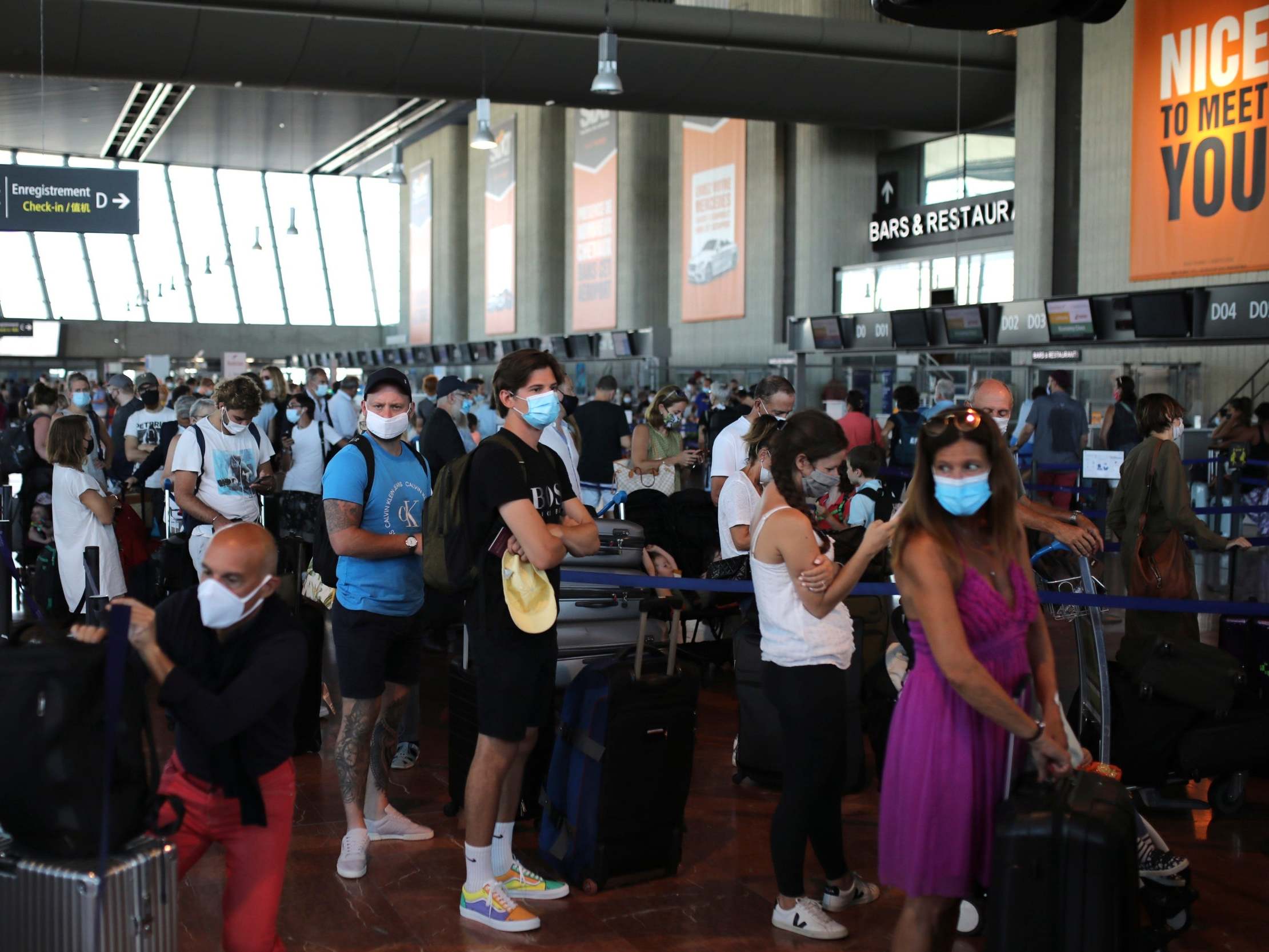 Tens of thousands of UK tourists in France made last-ditch bids to return home before the imposition of quarantine restrictions at 4am on Saturday.
Tickets for planes, trains and ferries were snapped up by travellers at increased prices as they attempted to beat the deadline.
The dash to get home was prompted by the decision to impose a 14-day self-isolation quarantine on travellers from France due to rising numbers of coronavirus cases in the country.
Transport secretary Grant Shapps insisted the government had taken "a practical approach" to the new restrictions.
Quarantine conditions also apply to travellers returning to or visiting the UK from the Netherlands, Monaco, Malta, Turks & Caicos and Aruba.
2020-08-15T08:53:34.990Z
Coronavirus, vampires and sex siren pigs…
Comedians need live gigs like vampires need blood – or at least Shappi Khorsandi says she does.
The comic – and Independent columnist – has performed at drive-in shows during the coronavirus pandemic but says she cannot wait to get back to more traditional venues as restrictions are lifted from this weekend.
She explains why – via sex siren pigs, talking vegetables and Winchester Royal Theatre – here:
2020-08-15T08:30:27.363Z
Now, defective gowns recalled from hospitals
And another Independent exclusive: some 200,000 defective gowns supplied to NHS hospitals have been recalled by the government because of fears they could leave staff at increased risk of coronavirus infection.
The Department of Health and Social Care said tests carried out on the gowns, which were delivered in June, had shown that they did not meet the fluid-resistance standards originally claimed by the manufacturer.
It is the latest embarrassing blunder in the government's attempts to secure a steady supply of PPE to hospitals – an issue that prompted major criticism during the height of the Covid-19 crisis, when many hospitals ran out of the life-saving equipment.
Full story here:
2020-08-15T08:21:53.210Z
Cover-up fears as reviews of Covid-19 deaths among NHS staff to be kept secret
Cover-up fears have emerged overnight after it was revealed ministers would not be publishing the results of investigations into hundreds of health and social care worker deaths linked to coronavirus.
The Independent revealed on Tuesday that medical examiners across England and Wales have been asked by ministers to look into more than 620 deaths of frontline staff during the pandemic.
The senior doctors will review the circumstances in each case and attempt to determine whether the worker may have caught the virus during the course of their duties.
But now the Department of Health and Social Care (DHSC) said the results will be kept secret with the aim of helping local hospitals to learn and improve protection for staff.
That has sparked criticism from across the political spectrum with calls for more transparency.
Here's the full story from our health correspondent Shaun Lintern…
2020-08-15T08:07:04.983Z
Soft play, bowling alleys and casinos open from today
A big day for tenpin bowling lovers, gamblers and parents with children climbing the walls – as bowling alleys, casinos and soft play centres are now permitted to open across most of England.
Music venues, comedy clubs and theatres can also throw wide their doors for the first time since March, after the government's announcement on Thursday.
And wedding receptions with up to 30 guests can also take place as of this weekend as part of the easing of restrictions.
Except that is, if you live in the area covered by the northern lockdown.
Closures will remain in place in Greater Manchester, parts of east Lancashire and chunks of West Yorkshire until at least next week.
2020-08-15T07:52:03.500Z
Day of travel chaos as Brits race to beat 4am France quarantine deadline
As tens of thousands of British holidaymakers raced to beat the quarantine deadline, a ferry captain planned a record-breaking North Sea crossing and demand for private jets soared.
At 10pm on Thursday, the transport secretary announced that travellers arriving from France, the Netherlands and Malta after 4am on Saturday would need to go home and self-isolate for two weeks.
Coronavirus infection rates in those countries – as well as Monaco, Aruba and the Turks and Caicos Islands – were unacceptably high, said Grant Shapps.
Read more:
2020-08-15T07:49:26.790Z
Good morning and welcome to The Independent's live coverage of all the latest coronavirus news in the UK and beyond.
Please allow the blog a moment to load
The deadline came the same day more lockdown restrictions were lifted in England.
Indoor theatre, music and performance venues can reopen with socially distanced audiences. Piloting of spectators at sporting events will resume with fans allowed to watch the World Snooker Championship at Sheffield's Crucible Theatre over the weekend.
And casinos, bowling alleys, skating rinks and soft play centres can reopen and "close contact" beauty services such as facials, eyebrow threading and eyelash treatments can resume.
PA