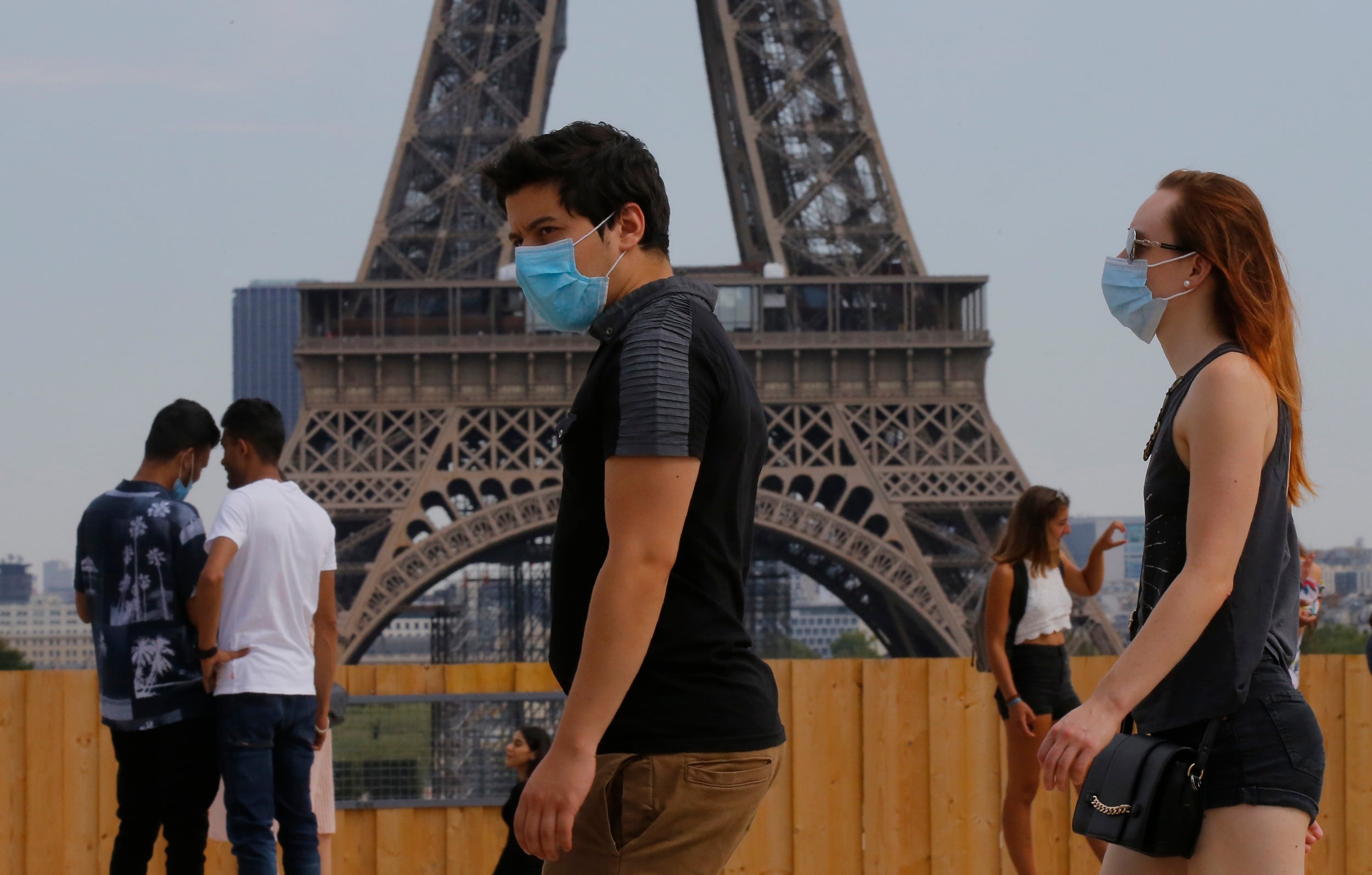 Hundred of thousands of travellers in France will be forced to follow strict quarantine restrictions when returning to the UK, the government has announced in response to a surge in coronavirus infections.
It comes after the country recorded 2,669 new cases of Covid-19 in a single day – the highest figure since lockdown measures were eased – with the health ministry warning that the circulation of the virus was "intensifying".
In a move that will throw travellers' plans into chaos, the transport secretary Grant Shapps also said the Netherlands, Malta, Monaco, the Turks & Caicos islands, and Aruba would be removed from the government's exemption list from 4am on Saturday.
The imposition of quarantine measures means that UK tourists returning from these areas will be forced to self-isolate at home for 14 days – or risk being fined up to £1,000 by the authorities.
The Department for Transport (DfT) said the government's Joint Biosecurity Centre and Public Health England indicated a significant change in the Covid-19 risk in all six destinations – leading to the decision by ministers to terminate travel corridor agreements.
Sources have told The Independent of intense cabinet wrangling over whether or not to include France. The Netherlands and Malta were expected to lose their exemptions because of high and increasing rates, but some ministers argued that France should be a special case because of the sheer number of travellers affected.
These nations will now join Spain, Portugal and Belgium and many other countries as effectively off-limits to many tourists, with the Foreign Office advising against all but essential travel.
It is estimated that there are at least 500,000 British holidaymakers in France at present, plus hundreds of thousands other UK citizens who are semi-permanent residents. Paris is also a key aviation hub, with several thousand British travellers passing through Charles de Gaulle on a normal day.
Saturday is the key travel for tourists returning from France, but almost all of them are booked on services that arrive well after 4am.
Eurotunnel has warned that anyone arriving at its Calais terminal without a confirmed booking will be turned away. A spokesperson for the car-carrying operation said: "The service is already very busy this weekend and there is no additional capacity. To avoid long queues and severe disruption we strongly advise against turning up at the terminal outside the allocated time. Customers will be unable to board alternative shuttles without a valid booking."
The Dutch capital, Amsterdam, is the main attraction in the Netherlands – but many British travellers drive through to or from Germany, Scandinavia and Poland.
In a normal year, half-a-million British holidaymakers visit Malta, but it is believed that there are no more than 20,000 on the island at present.
Earlier, Boris Johnson insisted the government had to be "absolutely ruthless" in regards to reimposing quarantine measures, "even with our closest and dearest friends and partners".
"I think everybody understands that," he told reporters during a visit to Northern Ireland. "We can't be remotely complacent about our own situation.
"Everybody understands that in a pandemic you don't allow our population to be reinfected or the disease to come back in. That is why the quarantine measures are very important and we have to apply them in a very strict way."
Department for Transport officials said that data from France shows that over the past week there has been a 66 per cent increase in newly reported cases and a 52 per cent increase in weekly incidence rate per 100,000 population – indicating a sharp rise in Covid-19.
There has been a consistent increase in newly reported cases in the Netherlands over the past four weeks, with a 52 per cent increase in newly reported cases between August 7 and 13. And over the past week, there has been a 273 per cent increase in newly reported cases in Turks & Caicos while Malta has recorded a 105 per cent increase in newly reported cases over the last seven days.
In response to the new quarantine measures, Nick Thomas-Symonds, the shadow home secretary, said: "While we support evidence based measures at the border, it's vital that the government has a joined-up strategy, and recognises the impact of this on travel-related businesses. It is vital that a sector-specific deal is put in place urgently.
"That the government has still not put in place an effective track, trace and isolate system has made matters far worse and made it more likely that we are reliant on the blunt tool of 14-day quarantine.
"The government should publish all of the scientific evidence its decisions are based on and details of any work being done to reduce the time needed to isolate through increased testing and other measures."