Police have seized an estimated £1.5m-worth of cannabis from a Scottish lorry driver at the UK-France border.
Border Force officers discovered around 150kg of the plant, along with £2,000 in cash, stashed in the lorry's cargo.
NCA officers and Police Scotland have since searched properties in Motherwell, Bellshill and Shotts, and the suspect has been released under investigation.
"This is a significant drug seizure involving NCA teams in Scotland and England working together with partners including Border Force and Police Scotland," said NCA Scotland branch operations manager John McGowan.


UK news in pictures
Show all 50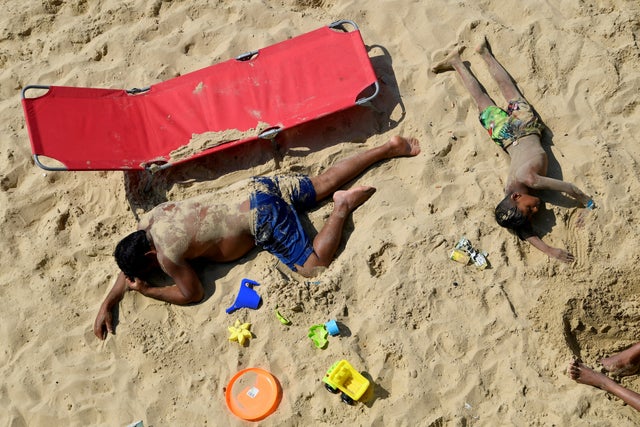 "Together we are determined to do all we can to stem the supply of illicit drugs to Scotland, where they can do so much damage to our communities."
"This is just one example of the crucial work that Border Force officers do every day to help keep the UK safe," added minister for immigration compliance and the courts, Chris Philp.
"Detections of harmful drugs and illicit cash such as this are testament to their dedication and expertise."
This week, 26-year-old chronic pain sufferer, Kayleigh Compston, became the first person to receive a prescription in Scotland, as part of a European trial led by Westminster's former chief drug adviser, David Nutt.
Despite its use being largely criminalised or inaccessible in the UK, a UN study in 2018 found Britain to be the world's largest producer of legal cannabis, with the 2.1 tonnes exported in 2016 accounting for roughly 70 per cent of the world's total that year.
Thursday's seizure, however, puts a meagre dent in the profits of the UK's illicit drugs trade, which was estimated to sit at £9.4bn per year in Dame Carol Black's landmark review in February.
The cost to society is more than double that figure, at £19bn a year – 86 per cent of which is inflicted by heroin and crack cocaine, Dame Carol found.
The government-commissioned report also concluded that the trade has "never caused greater harm to society", with law enforcement efforts not only failing to stem supply but often fuelling increased violence in the market, by creating gaps for competitors to exploit and dangerously fuelling mistrust.
It called for police to instead target dealing gangs' cash as it is laundered across borders, suggesting that even with optimal funding for all relevant agencies, "it is not clear that they would be able to bring about a sustained reduction in drug supply".
In August last year, Durham's late police and crime commissioner Ron Hogg, told The Independent: "I have lost count on the number of large scale early morning raids that I have participated in.
"Yet, the simple truth is that these activities – which take months, sometimes years in the planning – do no more than disrupt the supply market for the very shortest of periods.
"We recently interviewed two recovering addicts who had been arrested after an undercover policing operation which had lasted six months, cost over £0.5m and we arrested over 30 people involved in the supply of class A drugs. When we asked how long we had strangled the supply of heroin, one estimated four hours, and the other two."
However, crackdowns on the drugs trade have been bolstered during the coronavirus lockdown, which former Met superintendent Leroy Logan, told The Independent left county lines dealers "stick[ing] out like a sore thumb".
And in May, the Home Office touted the first of a series of raids backed by £25m of government funding, which it said led to the seizure of £3m of drugs, the closure of nearly 140 trade lines and more than 650 arrests.
This was soon overshadowed by the discovery of top-tier criminals' former messaging platform, EncroChat, which led to the arrest of more than 700 suspects in the UK, including previously "untouchable" kingpins who have evaded justice for decades.
Additional reporting by PA
tinyurlis.gdclck.ruulvis.netshrtco.de