Official guidance has "watered down" expectations on protective equipment for workers and could put people at risk, Labour has said.
Andy McDonald, the shadow employment rights secretary, has written to business secretary Alok Sharma to warn of holes in the government advice to firms, which was finally published on Monday evening – 24 hours after the prime minister first said people should begin returning to work.
In an interview with The Independent, Mr McDonald also poured scorn on Boris Johnson'​s "ludicrous" insistence that "British common sense" would help the public navigate its way out of lockdown after widespread confusion last week over the new strategy.
As official figures showed that male security guards and taxi drivers were among the most likely to die from coronavirus outside of clinical settings, Mr McDonald said "working people are bearing the brunt" of the risks.
The prime minister urged people who cannot work from home to return to the workplace last week as the government attempted to gradually reopen the economy after weeks of lockdown.
But the move triggered alarm from businesses and trade unions over how to keep workers safe, with a senior GMB official saying it could take up to two weeks for some workplaces to obtain screens, barriers and floor markings for social distancing, as well as hand sanitiser and face masks for staff.
Mr McDonald pointed to advice on protective equipment for non-medics, which states "additional PPE beyond what you usually wear is not beneficial".
He said: "One of the fundamental flaws in the guidance is that it effectively watered down the expectations around PPE.
"If they had said nothing at all the existing regulations make it abundantly clear that all workplaces have to carry out risk assessments to consider PPE commensurate with the current level of risk in whatever environment.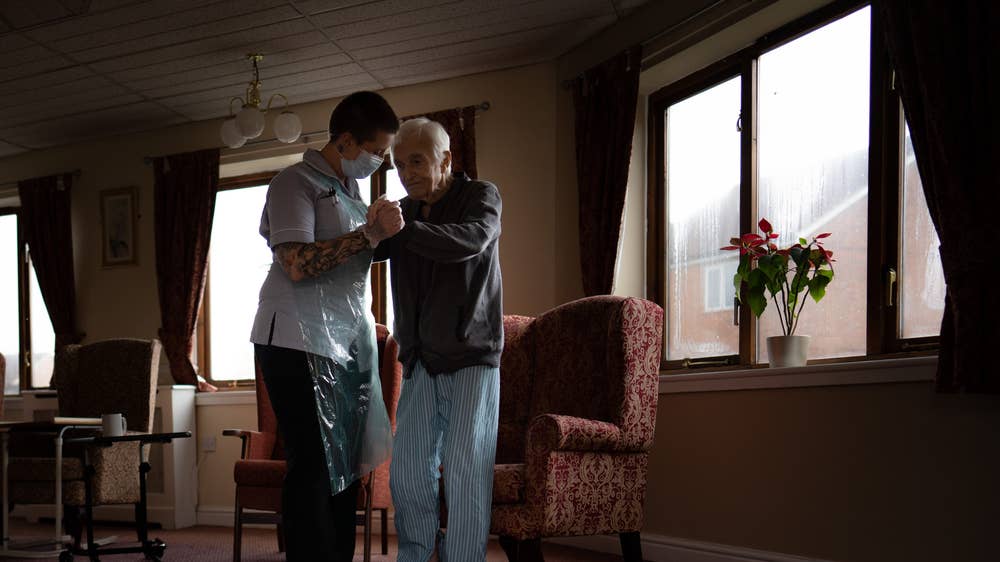 "We'd have been better off relying upon the law stated as it is. Now the point is that the guidance doesn't change the law. The law still exists, but if an employer or anybody else looks as their first port of call at the guidance itself they would be misled and confused as to where their obligations lay."
The Middlesbrough MP raised the case of railway ticket office worker Belly Mujinga, who died of Covid-19 after being spat at by a man who claimed he had the virus.
He said: "It is working people who are bearing the brunt. I belong to a profession and trade now that permits me to work from home as many of us do, but it's working people who are having to step out of their homes and go back to work and encounter these risks.
"So it is disproportionate, and it's grossly unfair to expect that element of the population to bear the risk for us all, which is what we're asking them to do."
Mr McDonald also attacked the prime minister for telling parliament that the public would be able to interpret new rules using "good, solid, British common sense".
"It's the most ludicrous thing to say, to say we can all just rely upon our common sense and let's get on with it," Mr McDonald told The Independent. "We need more than that, you know, proper preparation is what we need, proper planning.
"Let's get the transport system properly planned so people can go back to work. Let's do that before they go to work, not the other way around.
"We can't leave it just down to people's good judgement because people's common sense and good judgement is infinitely variable and imprecise.
"And that's why, if we could just rely upon a common sense, we could just abandon all the legislation and just put it all in the bin and say, 'Let's just all turn up and let's have a free for all.'
"Nonsense. You can't do it, can you? You end up with people dead as a result."
The Department for Business, Energy and Industrial Strategy published blueprints on how to keep workers safe from coronavirus last Monday.
Announcing the move, Mr Sharma said: "These are practical steps to enable employers to identify risks that Covid-19 creates and to take pragmatic measures to mitigate them.
"And as we are able to reopen new sectors of the economy, we will continue our collaborative approach working with a wide range of stakeholders, to provide guidance for additional workplaces."