Labour has compiled a detailed dossier on the government's handling of coronavirus in care homes, as the party piles pressure on Boris Johnson for an investigation into the way the sector has been treated.
The move came after health secretary Matt Hancock claimed that ministers had "thrown a protective ring" around care homes from the start of the outbreak.
The claim sparked anger due to official figures suggesting that thousands more care home residents have died than recorded in the government's own figures.
Data released by the Office for National Statistics last week found 45,899 deaths of care home residents in the period from 2 March to 1 May, 12,526 of which (27.3 per cent) were registered as being linked to the virus. And deputy chief medical officer Jenny Harries has said it is "very likely" that some of the 10,000 unexplained additional deaths above the numbers normally expected in April were due to the virus.
Labour's shadow social care minister Liz Kendall blasted the government's testing strategy for care homes as "slow, confused and chaotic" and said minister had still not got a grip on the problem.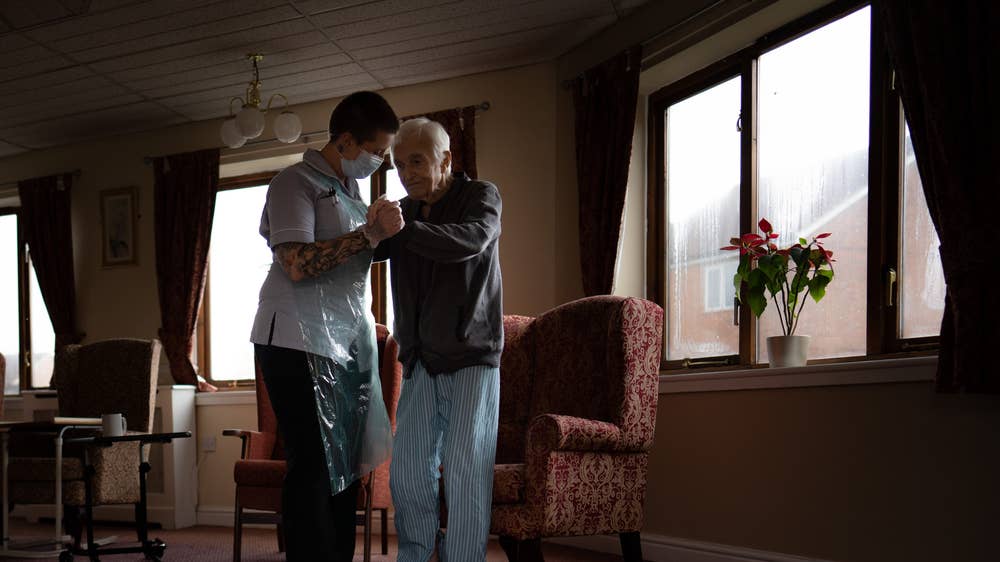 Despite scientific advice as early as 10 February warning that there may already be sustained transmission in the UK of a disease which was known to be particularly dangerous for older people, initial guidance said it was "very unlikely" that care homes would become infected and there was no need for staff to wear facemasks, she said.
And she complained that the UK adopted less stringent rules on the use of personal protective equipment (PPE) than recommended by the World Health Organisation, and said care staff had not alway been able to access the kit they needed.
"Ministers have serious questions to answer about why it took them so long to change the guidance and test everyone being discharged from hospital to care homes for coronavirus," said Ms Kendall.
"It is simply not possible to effectively isolate many people in care homes, especially if they have dementia. Alternative arrangements should have been available right from the start, with intermediate or 'step down' services between hospitals and care homes for people with Covid-19, to prevent the spread of this awful virus and help keep elderly people safe.
"On top of this, the government's testing strategy for care homes has been slow, confused and chaotic. It wasn't until 28 April that ministers decided to test all residents and staff, and care homes say it was completely unclear which national organisation was responsible. Even now that the Government has launched its new testing portal, care homes say they can't access tests, or couriers aren't picking up tests, or they just haven't had the results back."
"This is not good enough. The government must get a grip of this problem as a matter of the utmost urgency and get all care homes the tests and wider support they desperately need."
Ms Kendall set out a timeline of guidance and support for care homes which she said showed the government was late to act:
– 10 February: A document submitted to the government's Scientific Advisory Group on Emergencies (Sage) warns community transmission in the UK was already likely and notes evidence that suggests severe cases are more common in older age group.
– 25 February: Guidance states it is "very unlikely" care homes will become infected and says routine PPE use is not necessary. People who have had close contact with confirmed Covid-19 cases are not considered to be cases themselves and are told to self-isolate either at home or in their own room at a residential care home.
– 2 March: Public Health England director for health protection Prof Paul Cosford says that widespread transmission in the UK is "highly likely".
– 3 March: US director of the Centre for Disease Control and Prevention Tom Frieden warns that nursing homes "are potentially at greater risk" and authorities will have to plan how to protect them.
– 13 March: Public Health England's initial guidance to care homes is withdrawn. The government tells care homes to ban visitors who are feeling unwell, but stops short of an outright visits ban, stressing the 'positive impact' of residents seeing friends and family.
– 19 March: NHS England guidance issued to free up 15,000 beds in hospitals does not include a requirement to test patients for coronavirus before discharging them to care homes. The guidance says only that "where applicable to the patient, Covid-19 test results are included in documentation that accompanies the person on discharge".
– 25 March: Prime Minister says that all care homes will have the PPE they need "by the end of this week".
– 2 April: New guidance from the Department of Health states that negative tests for Covid-19 are not necessary to transfer people from hospitals to care homes.
– 14 April: Chief medical officer Chris Whitty reveals that more than one in 10 care homes – 13.5 per cent – have coronavirus cases, with almost 100 affected in the past 24 hours.
New figures show that only 505 social care workers in Britain have had coronavirus tests, compared to more than 47,000 NHS staff and their families. Office for National Statistics (ONS) figures indicate that significantly more people have died of coronavirus than included in the numbers released by the government, which include only deaths in hospitals.
– 15 April: Coronavirus testing expanded to all care home residents and social care staff with symptoms, as well as new arrivals discharged from hospital. This replaces a system under which only the first five symptomatic residents in each home are tested to confirm an outbreak.
– 16 April: Association of Directors of Adult Social Services (Adass) says national handling of PPE for care workers has been "shambolic".
– 17 April: A survey of 2,800 careers found that 42 per cent were looking after residents who had suspected Covid-19. 80 per cent of respondents said there has been no screening of staff so far, and 75 per cent said that residents hadn't been tested either.
– 19 April: A survey conducted by research group Skills for Care finds one in four carers were unable to work.
– 21 April: National Care Forum says only a quarter of eligible care home staff have been tested.
Evidence submitted to the Joint Committee on Human Rights that UK PPE guidance for care homes sets lower standards than WHO.
– 28 April: Mr Hancock announces that all care home residents and staff, including those without symptoms, will be tested.
– 29 April: GPs told to prepare for weekly care home rounds from May.
– 11 May: Coronavirus roadmap sets out goal to test all care residents by 6 June, despite commitment in April to roll out testing straight away
New advice says that face coverings can "help us protect each other and reduce the spread of the disease".
New testing portal for care homes announced but not all care homes can access it.
– 13 May: Alzheimers Society releases survey suggesting that three-quarters of care homes find GPs are now reluctant to visit residents.
– 15 May: ONS statistics show significantly raised death rates for care home residents compared to 2019.